Lincoln Park. A Return to its 1800's Elegance.
"…Let us secure for ourselves and for our children a beauty spot in the midst of our growing city – a breathing place for all the thousands who are to come after us."
— Portland Transcript, 1856
A Brief History of Lincoln Park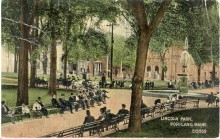 Lincoln Park was the first publicly-owned improved park in Portland. The city bought the burnt-out parcel bordered by Congress, Franklin, Federal, and Pearl Streets for $83,000 in 1866. That's about $1.3 million in today's dollars.
The park itself was first conceived as a firebreak, after the Great Fire of 1866, and it came to represent the resurgence of Portland after the fire. "No time should be lost in making the park as pleasant and attractive as possible," Portland's then-mayor A. E. Stevens remarked in 1867.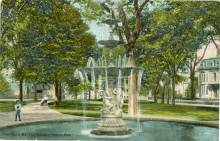 The park's iconic fountain was cast by the Val d'Osne foundry in Paris, France. It is one of only three known instances of that model of fountain to have come to the United States. There are plans underway to have it functioning once again in 2017.
The park was a hub of the city for decades. In addition to being a popular spot for Portland citizens to meet and relax, a farmer's market was held on Federal Street every Saturday morning from early spring to late fall.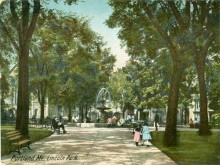 Lincoln Park's size and appearance has changed several times over the years. In 1909, the park expanded to include an empty lot to the west – the city built the Congress Street Fire Station on that spot in 1923. Dutch elm disease killed the Park's many elm trees during the 1960s, and in 1970 the eastern quarter of the park was demolished to make way for the widening of Franklin Street.
Today, Lincoln Park needs our help in providing comfort and enjoyment to city dwellers. If interested in supporting a place where civic diversity can be cultivated and actualized in a renewed historic park, visit lovelincolnpark.org!