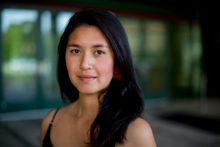 Megan Tan, creator of the highly acclaimed podcast "Millennial" will be one of the speakers at this year's TEDxDirigo.
The TEDxDirigo site tells us "TEDxDirigo Dissonance is a chance to embrace ideas we don't agree with and examine those we hold as truth." And their newsletter tells us about Megan Tan and her podcast:
The podcast was warmly received in a quickly crowding space. The Guardian reviewed it in May 2015 stating, "[t]his podcast about making your way through your twenties in the age of austerity avoids self-indulgent navel-gazing." Just a year later, Megan and her show were picked up by Radiotopia, hot of the heels of The Atlantic ranking Millennial #14 of their top 50 podcasts of 2015. And then, just this week, Megan was named one of 29 powerhouses under the age 30 poised to change the world by Refinery29.
The Millennial site recommends we listen to the serial podcasts in order, so here's the first to get you started:

Join Megan and the other speakers (below) at this year's TEDxDirigo at the State Theater November 5.
For more information visit www.tedxdirigo.com/conference