The Luminato Team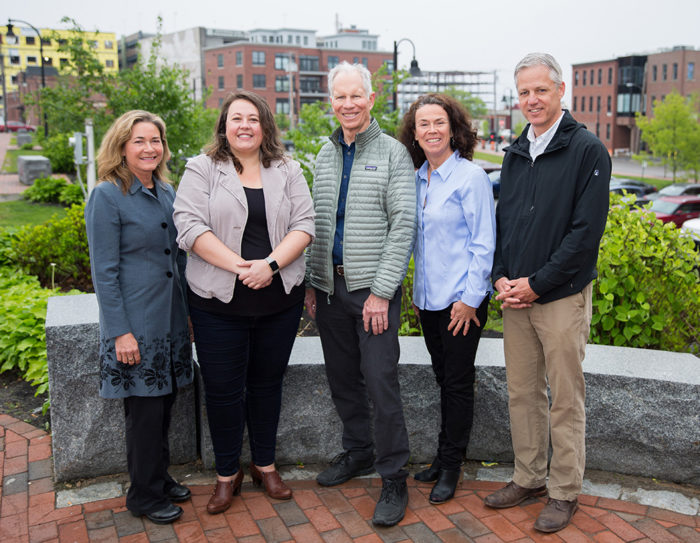 NewHeight Group. From left: Erin Cooperrider, Emilly McConnell, Chip Newell, Susan Morris, and Tom Federle.
Development by NewHeight Group
Principals Chip Newell and Susan Morris have decades of experience creating brilliant living environments. Their track record translates into home buyer's confidence and guarantees enduring value. NewHeight's vision is to seamlessly combine day-to-day functionality with aesthetic beauty in condominium design. The results are strikingly attractive and eminently practical homes. Joining NewHeight Group on the development of Luminato are new partners, Tom Federle and Erin Cooperrider. Both are locally-based and share NewHeight's passion for outstanding residential design and the best of urban living. More about NewHeight Group.

---
Architecture by Archetype
Among Portland's most dynamic architectural firms, Archetype's creative vision has helped shape the built landscape of Portland and beyond for more than 25 years. Archetype's portfolio includes a diverse client list with projects in the residential, commercial, retail, and hospitality industries. Fresh off the success and accolades of 118 on Munjoy Hill, NewHeight Group and Archetype are collaborating again on Luminato. More about Archetype.

---
Construction by Landry French
Landry/French is one of Maine's leading construction companies with experience in housing, healthcare, commercial/corporate, R and D, financial, and education projects. After they each had almost 30 years of experience in the industry, Kevin French and Denis Landry combined forces to create Landry/French in 2010. It was named one of the Best Places to Work in Maine in 2015. More about Landry French Construction

---
Partnering Agency
Brit Vitalius of Vitalius Real Estate Group is the listing agent for Luminato Condos. Vitalius is a boutique agency on Portland's peninsula with expertise in various market segments including condominium, single-family, multi-family, and commercial. The Vitalius team ensures that clients have a smooth, professional, and fun purchasing experience. Note that there is a dedicated Luminato Condos sales team is located in the Luminato Sales and Selections Center at 42 Hampshire Street, just blocks from the Vitalius East End office on Congress Street. Direct condo enquiries to the Luminato team at life@luminatocondos.com or call 207-536-0821. More about Vitalius.