The windows and sliding doors for Luminato were selected for their quality, beauty, and energy-efficiency.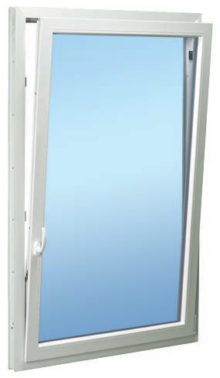 These windows use the "tilt-and-turn" ap­proach to opening. With the handle at 90 degrees, the window angles inwards (tilts inwards) at the top. With the handle turned 180 degrees, the window opens in like a door (turns inwards). The tilt function is useful on a warm day for providing ventilation with minimal risk of disruption from a breeze or window slamming. The turn function allows maximum air circulation, brings the outdoors in, and makes cleaning easy.
The deci­sion to use triple glazing rather than standard double glazing significantly improves the sound dampening effect of the windows.
Beyond energy and sound advantages, Luminato's over-sized windows bring increased natural light into the unit and create an amazing sense of volume. In combination with the 10-foot-high ceilings and 8-foot doorways, they exponentially increase the feeling of spaciousness. By the way, the windows do not extend all the way to the floor, intentionally leaving a low wall that provides privacy and hides the legs of furniture.
Finally, the sleek look of the tilt and turn windows beautifully frame the city and water views.